Watch jellyfish swim quietly and creating a beautiful "Peace of Mind" atmosphere. Lifelike jellyfish movements are so realistic you will question if they are real, even the most energetic people will not be able to resist its calming atmosphere!
WHY THE JELLYFISH AQUARIUM 
Reduce Anxiety & Stress

 

-

Sit back, relax, and feel the stress of the day melt away as you immerse yourself in the calmness of the ocean

. 
Elevate Your House Decor

 

- Pick the color that matches your house and

 will have a whole new 

vibe

 of its own! 

Aesthetic - Within 2 minutes your Jellyfish Aquarium will be set up and ready to provide a realistic and nostalgic deep-sea experience. 
Perfect Gift - Give someone a gift that is not found in stores and is offered exclusively by Make Life Easy™.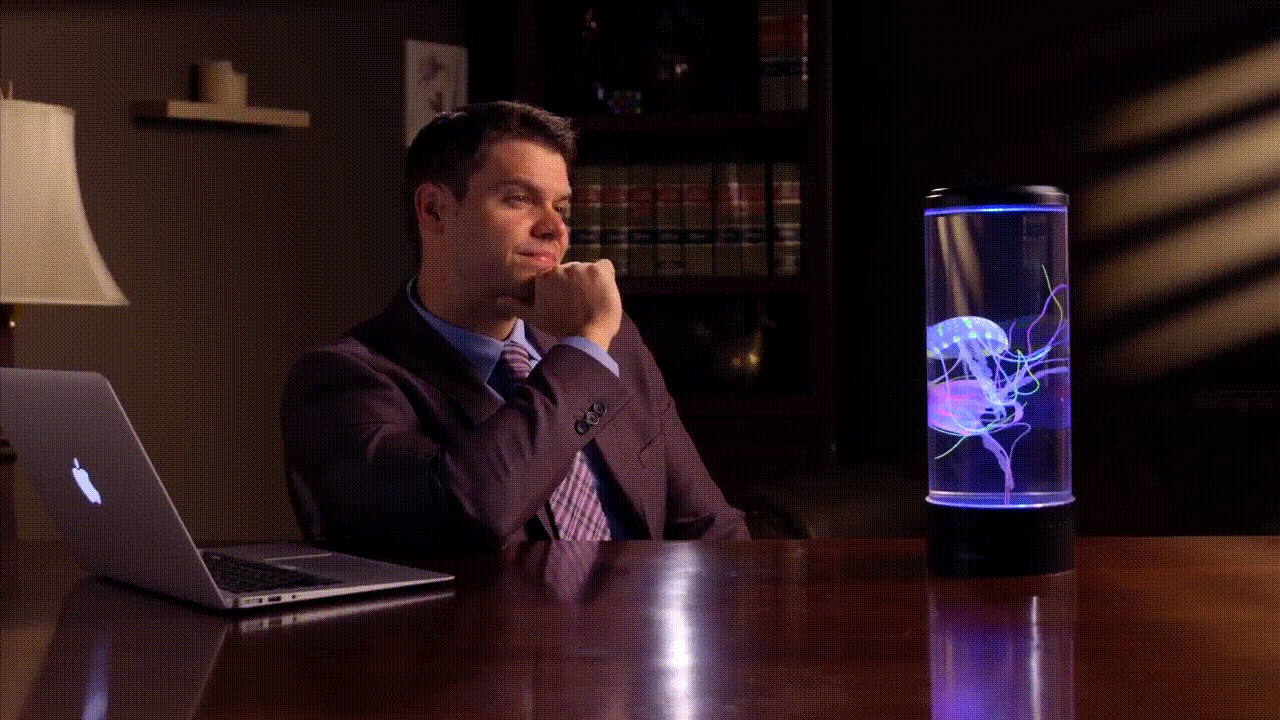 HOW DOES IT WORK?
Quite simply, we use LED lights, water and a motor that allows the silicone jellyfish to look almost life-like with their movements. The lamp's outer shell is Acrylic and not glass, so it will not shatter if dropped.
The lamp is not completely sealed, there is a small hole with a cap on top that allows you to fill or drain water at any time. You may use distilled (best clarity) or Tap water!
The Jellyfish is not real, it's made of silicon

HOW TO USE
Step 1: Open your Jellyfish Lamp box
Step 2: Take off the Plug and fill the Lamp with water, add the (Artificial) simulated jellyfish as well. Once water is added and the Jellyfish are in, add a few drops of dish soap (this changes the viscosity making the Jellyfish move around.)
Step 3: Put the plugin and enjoy your Jellyfish Lamp! If the Jellyfish are floating, just simply push them back down until all the air bubbles are gone!
F.A.Q
Q. How big is the jellyfish tank?
A. 15.5" x 5.5" 
Q. Can the Jellyfish Aquarium project different colors?
A. Yes, you are able to use 6 LED colors with a press of a Switch.
Q: Is this like a lava lamp? I need one that can stay on all nightA:
Not really. Lava Lamps work by heating up wax which rises to the top of the bottle, cool, and then comes back down. In this lamp, there is a jet of water that propels the plastic jellyfish around the tank. Since it is illuminated by LEDs, you can leave the lamp on all day and not have to worry about the bulbs burning out or the lamp becoming hot.
Q. Is it battery powered or USB powered?A.
 Both, t
he jellyfish tank takes 3AA batteries or plugs in the USB to any outlet or computer.
If something is wrong with your order, you can quickly contact our helpful customer support team to get a refund or send us an email at sales@makelifeeasy.com
We have 24/7/365 Email Support. Don't hesitate to contact us if you need any assistance.